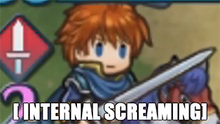 Hi there! I'm Sam, and I'm the bureaucrat and administrator of this wiki. I'm currently the sole admin, so just pop any concerns on my message wall and I'll gladly help you out!
If you're willing to be an active user yourself, I'm recruiting admins wherever they come from, so feel free to ask me about that, too. Most of all, we need content to bulk out the wiki, so all your contributions are appreciated!
I live a Hannah Montana-esque double life where I am a peaceful student by day and an avid video game enthusiast by night. I also like indie bands, needlepoint and good books. I like making new friends and my Christmas card list is several feet long.
My favourite 80 Days route is easily the North Pole journey, and I believe wholeheartedly in spreading its perfection as much as possible. My favourite incidental character is our #queen, Ráijá Juho.
You can also find me on tumblr.