"
The city of St Petersburg was going to war with itself.
"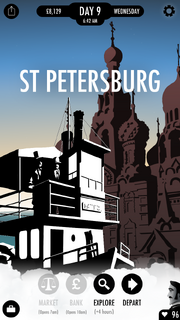 St Petersburg is a location in 80 Days. Lying to the northwest of Moscow, St Petersburg is Russia's second largest city is sometimes described as the country's most westernized.
Events
[
]
In St. Petersburg, Passepartout may encounter rebels fighting against the Tsarist government of Russia. If Passepartout helps one of the rebels, a woman calling herself Comrade Ravka, he learns that they are fighting because they want a Communist society. He will receive a Communist Manifesto from her, which will lead to an arrest if the player later travels to Moscow and stays indoors.
Arrivals
[
]
Departures
[
]
Market
[
]
The following items can be bought in Apraksin Dvor, the St. Petersburg market;