Jurassic World: Dominion Dominates Fandom Wikis - The Loop
Play Sound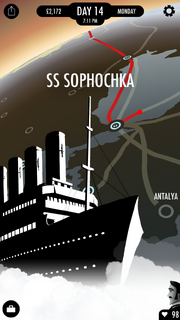 The SS Sophochka is a ship route that travels from Istanbul to Novorossiysk.
Kapitan Brilev runs the passenger ferry with what Passepartout describes as a "tyrannical precision".
Passepartout, while exploring the ferry, finds Princess Fehime, the sultan's daughter, hiding in a bundle of silks. If she is alone she will be afraid but determined and if she has the harem girl Passepartout met in Istanbul with her, she seems hopeful for her future. Either way she demands that he keep her a secret so she can make a clean escape.
As such, Passepartout has the decision to alert Kapitan Brilev of the presence of stowaways. If he does, Brilev will turn the ship around and return to Istanbul, losing time but allowing Passeapartout to claim a £1000 reward from the Sultan. IIf he keeps her secret and she has a guardian with her, they slip out and seem to be comfortable enough. If he lets her go alone, Passepartout may later read a headline in The Times suggesting a terrible fate befell her.