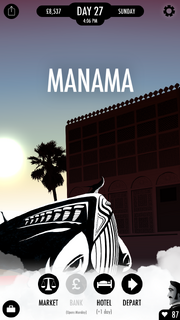 Manama
is a location in
80 Days
. The capital of Bahrain, it is situated in the middle on the western shore of the Persian Gulf.
Since the signing of a peace treaty 20 years ago, Bahrain had been solidified under British rule, making Manama a very comfortable city for Fogg. Upon arrival, Passepartout is able to buy Darjeeling Tea from a local market.
Arrivals
West from Riyadh by electric Farabi.
Departures
East to Muscat via Dubai aboard a fishing yacht.
East to Bombay aboard the Hadeel.
East to Karachi aboard a Sophos Company Airship.