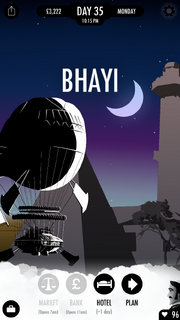 Bhayi is a location in 80 Days. It is situated in South Africa, on the very southern tip of the continent.
Prior to the establishment of the Zulu Federation, Bhayi was the British town of Port Elizabeth. It is a bustling trade route.
There are rumours of a sea monster that is roaming the waters near Bhayi, and Passepartout may even join and expedition aboard the Tokoloho to try and catch it.
Arrivals
Edit
Departures
Edit
The following items can be bought in the Bhayi market;